Welcome to Brigid's English Creative Language Activity for kids. This month's creative writing activity is inspired by the Hindu spring festival of Holi. Holi is an Indian & Nepalese festival which is now celebrated all over the world by Hindu communities & their friends. This year on March 8th families & friends will gather in streets & parks to celebrate the return of spring. Grandparents, Mums, Dads, Aunties, Uncles & all the kids will arrive carrying buckets of water, little pots of brightly coloured powder, water guns & balloons. The Spring Festival of Holi is celebrated with a good hearted Rainbow Water Fight! Yeeeeah!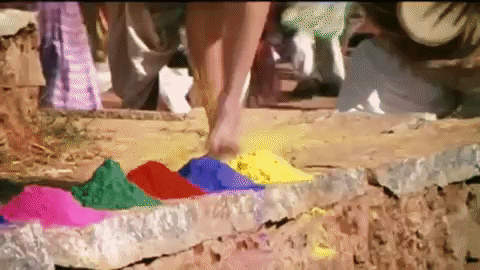 Have you ever celebrated Holi?
Have you ever had a water fight?
Have you ever been mini paintballing?
Close your eyes for a moment & remember.
Quickly jot down your memories on a mind map.
Here are some questions to help you remember or imagine!
Do you remember getting someone wet?
How did it feel? What did their face look like?
What sound did they make?
How did it feel when you were "got"?
Describe your experiences at a real or imagined Fun Rainbow Water Fight!
Follow our creative Writing Tips to make your writing pop!
1. Rainbow Water Fight!
A warmhearted day of family fun & frolics. Here are some happy & playful words to help you describe your experiences. Use a thesaurus to find some more!
What pranks do you play?
Who do you hide with?
Why do you hide?
Who plays a prank on you?
E.g.
Sinta & i hid behind the mango tree with our little pots of bright blue & yellow powder, waiting to ambush Lily & Jack.
2. Coloured Powder
You have little pots of powdery & soft coloured flour.
What colours do you have?
Writing Tip
To make your writing pop lets compare your colours to something.
E.g.
As pink as a flamingo
As red as a strawberry
As yellow as the sun
When we compare something with something else & use "as" we call it a simile.
Use a simile to make your writing totally fabulous!
Here are some examples for you to use. Have fun making your own up too!
Click here for our Simile Quiz.
What colours do you throw?
Where do they land?
E.g.
Grandma was as blue as a peacock
I was as multicolored as a rainbow
Sinta's beautiful black hair was now as pink as candyfloss
Mummy's jeans were now as yellow as a buttercup
3. Covered in Colours
You are feeling hot, dry & dusty. It's time for the Water Fight to begin!
4. A Big Wet Whoosh!
Cool, clean & refreshing water splashing & sploshing everywhere!
How do you feel when the first bucket of water "gets" you?
Maybe at first you feel shocked, then refreshed & ready for more!!!
Writing Tip
Use some of these Wet Words to make your writing feel really wet!
E.g.
We were all wet through. Our hair was dripping. Our clothes were saturated. Everyone looked so funny.
The dog was drenched too! He shook his coat & showered us in water!
5.More More More!
Everyone throws everything! Powder & water everywhere!
Writing Tip
There is a lot of "throwing" in this story. Here are some synonyms for the verb "To Throw". Use some synonyms to make the action extra interesting! There are so many different ways to throw water & powder!
E.g.
My Aunt fired her water gun at me & showered me with turmeric coloured water. My sister pelted me with a hundred water balloons. I was drenched. Then my big brother blew yellow powder at me!
6. A Colourful & Gooey End
The coloured powder & water mixes together into a sticky gooey rainbow mess! Everyone is exhausted & covered in colourful splats & splatters. Describe what people look like. Here are some colourful words to make your writing extra amazing!
E.g.
Mum was splattered with fluorescent colours. Her hair was streaked with all the colours of the rainbow! The dog wagged his kaleidoscopic tail. I was as colourful as a parrot!
Wow! You have written a fantastic story. Congratulations! You can now use similes to make your writing totally fabulous!
Share your story with your friends.
LEARN CREATE SHARE
Click here for our language games & quizzes
LEARN CREATE SHARE
If you have any questions or would like to book a lesson with us click here!
You are most welcome to leave a comment below.
We look forward to hearing from you.
Have a great week. See you soon!
HAPPY HOLI