Welcome to Brigid's English Celebration for World Book Day. Reading is such a rewarding pastime. Books live everywhere: in houses, boats, schools, tents, libraries, pockets & bags. Open a book & learn about new places, people & things. Open a book & visit familiar places, people & things. Open a book & find yourself in the past, present or in the future. Open a book & become a scientist, a florist, a doctor, an artist, a top chef or an astronomer!
Books are a fabulous past-time present-time & every-time essential for life!
To celebrate World Book Day we have made our own list of Top 10 Childhood Books. A big thank you to all our students & friends who helped us make our list. Please share your favourites with us in the comment sections below. Enjoy!
READ READ READ READ READ READ READ
10. Peter Pan
by J.M.Barrie A timeless fantasy of eternal childhood & breathtaking adventures. If you open this book you will fly; meet pirates, ticking crocodiles, Tiger Lilly & the naughty Tinkerbell.
"Second star to the right, and straight on..."
9.My Family & Other Animals
by Gerald Durrell
A beautifully written autobiographical account of Durrell's childhood adventures with the local wild life in Corfu. If you open this book you will meet all kinds of funny little creatures!
"All we need is a book," roared Leslie; "don't panic, hit 'em with a book."
8.Comet in Moominland
by Tove Jansson
Meet the wonderful Moomins & join in their epic adventures in Moominland. If you open this book you will see a comet! Will it crash into Moominland?
"You must go on a long journey before you can really find out how wonderful home is."
7. The Little Prince
by Antoine de Saint-Exupery
A poetic, inspirational & tender tale of loneliness,friendship & love. A fabulous read for kids & adults.
"one sees clearly only with the heart."
6. The Wind in the Willows
by Kenneth Grahame
An enchanting tale of friendship & adventure with Ratty, Mole & Toad. If you open this book you will get lost in the Wild Wood, meet a mysterious visitor at dawn & much much more!
"the river still chattered on to him, a babbling procession of the best stories in the world."
5. The Secret Garden
by Frances Hodgson Burnett A haunting tale of rejuvenation, which explores childhood experiences of love, loss & friendship. Open this book to meet Mary who is sad & lonely, until...
"If you look the right way, you can see that the whole world is a garden."
4.Charlie & the Chocolate Factory
by Roald Dahl
A delicious & mouthwatering journey to be enjoyed with a bag of your favourite sweeties! Open this book & you will be invited into the most amazing Chocolate Factory ever!
"Everything in this room is edible."
3.Alice in Wonderland
by Lewis Carroll
A colourful & kaleidoscopic tale of Alice's continually evolving & transforming adventures in Wonderland. Open this book & you will get very very small & then very very big. You will drink tea with the Mad Hatter, meet the Cheshire Cat, escape from the Red Queen & see a baby turn into a pig!
"Curiouser & curiouser!...now i'm opening out like the largest telescope that ever was!"
2.The Lion, the Witch & the Wardrobe
by C.S. Lewis
A marvelous story set in the fantastical land of Narnia. Jadis, the evil White Witch has cast a spell over Narnia making it always winter but never Christmas. That is until...
"This must be a simply enormous wardrobe!"
1. Matilda
by Roald Dahl Matilda is the perfect book for World Book Day because it is a story which celebrates the magic of books & readers. It transforms a little girl who loves books, into one of the best loved characters in Children's Literature.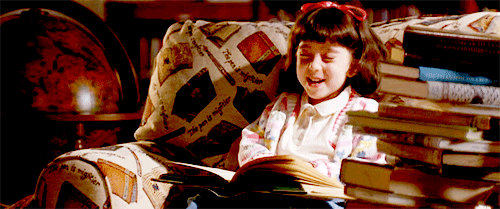 "The books transported her into new worlds...she travelled all over the world while sitting in her little room in an English village."
Hurrah for Matilda!
Hurrah for Miss Honey!
Hurrah for readers, books & teachers everywhere!
Have a fabulous World Book Day!
Make your own Top 10!
READ READ READ
LEARN CREATE SHARE
Thank you for reading. If you have any questions or would like a lesson with us please click here!
See you soon!
.